WHO WE ARE
ABOUT US
New Forest Football Academy is a Football Academy set up that is based in the New Forest, Bournemouth and Southampton area for players aged 3 to 16. We are very proud to be Official Academy Partners with AFC Bournemouth Academy, providing our players with a very exciting and unique opportunity to play at the highest level to showcase their talent as well as providing them with an official pathway to a Premier League Academy. To read more about our Academy Partnership, visit AFC Bournemouths Official Club Statement by clicking here.
Our Academy offers a complete football pathway for total beginners at entry level, through to our Elite Development Centres who are invited to regular fixture festivals and match opportunities with Professional Football Academies. In the last four years, 50 of our Academy players have progressed into AFC Bournemouth, Southampton FC, Tottenham Hotspur FC, Portsmouth FC, Brighton FC & Hove Albion FC & Peterborough United FC Academy Squads, with a further 120+ players progressing into Premier League Development Centres.
In 2022, we were excited to confirm that one of two of our former players achieved Professional Football Contracts! Professional Footballer Eddie Beach signed his first contract with Chelsea FC after he was brought in by the club for an undisclosed fee and became the first signing in Chelsea's history under new ownership. Professional Footballer Harry Thomas signed a Two-year contract with Peterborough United FC.
It is our vision at New Forest Football Academy to develop each and every player to reach their full potential both as a player and as a person. We understand that every player is different, developing at different rates and learning in different ways. This is why we have a long term player development plan at every Academy Training Centre that we run.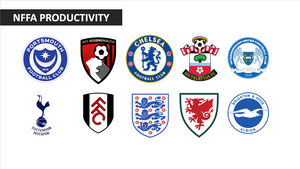 THE NFFA WAY
At New Forest Football Academy, our coaching syllabus is centred around the individual player focusing on Ball Mastery, Aerial Control, Dribbling and Shooting. We want to encourage players to be as brave and confident as possible, being exceptionally fearless when in 1v1 situations both on and off the ball. All players from entry level to our Elite Squads will be encouraged to become masters of the ball, with an in-depth knowledge and understanding of how to perform various Beat the player moves, turns and ball manipulations. We never criticise a player or restrict them from doing certain things on the pitch. Instead, we encourage them to be the best player that they can possibly be and give them the tools required to progress onto the next level.